The ART LtR 50/50 club June draw was done on a "Codgers" bell ringing outing in Cumbria on a 'lovely' wet day.
The group of eager ringers who are free to ring in the daytime midweek (i.e. retired) held their breath in anticipation of their own number being drawn, or at least that of someone they knew. And indeed, a few knew two of them, despite them living about as far from Cumbria as you could get, in opposite directions!
The lucky prizewinners this time were Les Boyce who won £62 and Mandy Burnett and Judith Frye who each won £31.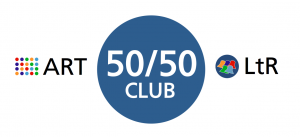 For those who don't know about the 50/50 club yet, it's a subscription club where half the money paid in goes to ART towards the costs of supporting teachers and learners of bell ringing, and the other half is given out in prizes over the year.
We would love to have more members – for bigger prizes and more money for ART! – so please consider joining. You can get all the information and forms at www.learningtheropes.org/5050club.
And I would ask you to consider setting up a standing order as it needs less work to administer – and they can be cancelled very easily by yourselves when you want to leave. It costs £12 per number per year.
Some people have four numbers each!
50 / 50 club winners are announced quarterly in Tower Talk Magazine – the free magazine for ringers by ringers. To read the rest of the July edition, please click here
Or to subscribe to future editions by email, please fill out this form