I live in Sidmouth, and I have been learning to ring at the Parish Church there for the past 18 months with tower captain Anne Bailey. Anne is a brilliant teacher who is taking me on my "Learning the Ropes" journey very patiently and skilfully. It's a great way to learn. She is also a mine of information and mentioned the Tulloch Training Course to me when I asked her about possible training courses.
I was intrigued by Tulloch being an unusual secular ring up in the West Highlands of Scotland, and with a Scottish husband I thought we might go there and combine it with visits to friends and family. I thought I'd give it a try, despite the long journey to get there!
I had huge anticipation of how the course would be and was prettyexcited about it, taking time off work specially to go. I imagined how the place would be and what my accommodation would be like,
But as it turned out the centre was nothing like I had imagined it, and neither was where I stayed. My "cottage" was neither cold nor damp – which I thought it might be – but a toasty warm little bungalow! It was quite modern with a coal fire, radiators and night storage heaters too. It had a lovely friendly feel to it, with a huge modern kitchen where I enjoyed the company of the three fellow- ringers that I shared it with. We had a lot of laughs. (My husband didn't join me in the end).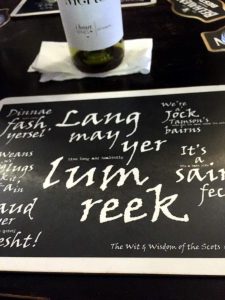 As for the ringing centre at Tulloch, I had imagined a huge, draughty barn, like an enormous church tower with bells visible hanging high overhead, but it was actually a newly refurbished, purpose- designed building with two ringing chambers, both cosy and comfy, a big kitchen, a front hall/reception area, and a nice big seating area with settees and a roaring wood burner. And on top of that, there were endless supplies of coffee, biscuits and cake – plus a delicious lunch every day. The home-made soup was lush! It had a "family" feel to it. A real home from home.
The bells were much lighter than I had expected, so needed very careful handling. The bigger chamber has 12 bells in it, with the heaviest being lighter than my normal "number 4" bell in my home tower. The lightest bells were like "tinker-bells" in sound. We only rang the lightest bells on the last day when we rang all 12 bells in rounds, and then did "Kaleidoscope" and "Mexican Wave" which was fun.
The smaller ringing tower had 8 very light bells too, but they handled beautifully. I just needed to be careful not to bump the stay! The final room housed a dumbbell attached to a simulator which I honestly had to "grapple with" – it was not my favourite thing to use! I didn't cope well with it at all, but I gave it a go!
However, the best thing on the course for me was my discovery of the joy of ringing handbells. Definitely my favourite part of the week – and whenever I wanted to spend time on the  handbells having a go at a method there were plenty of opportunities to do so, which was great. And I got quite good at it in a short space of time. As Helen, the course leader told me, ringing the handbells really does help your tower bell ringing. I could not agree more. It gave me a far greater understanding of "the overview" of what all 6 bells are all doing in relation to each other, instead of fixating (as beginners like me do) on just my one bell and how to handle it.
It helps you listen to the music of the method, too. So my main motivation since coming back home is to get going with two other ringers and liberate the handbells which I didn't even know we had on the tower windowsill! I am also enjoying using the far greater understanding that I gained at Tulloch – thanks to my brilliant tutor, Stephen – at reading various methods and studying "the blue line", which is now no longer a mystery to me. Hurrah!
My raising and lowering in peal is still "work in progress" and handling will always need to improve, but we worked hard and spent a long time on both those aspects of ringing on the course, as we did on basic handling skills.
So, again, these are aspects of the course that I have reflected on since returning to my home tower. I am not afraid to raise or lower my bell now, which is a step in the right direction.
My ropesight was already not bad, but since the course I have realised it is quite good! I am generally more ready to "have a go" at different things, too. Like hunting on inside bells, covering (which I did a lot on the course) and ringing the treble to a variety of different methods. I am enjoying doing it all, now I am back at my home tower.
This article by Susan King first appeared in edition 6 of Tower Talk – the free, quarterly e-magazine for ringers. To read more or subscribe to future editions, please click here.