Lytchett Matravers hosted another M2F course with a full house of 12 attendees coming from Hampshire, Wiltshire and Dorset.  This time we had Gill Hughes tutoring a very busy programme from 9.30 until 5.00 pm, with a good mixture of theory and practical applications.  Sub
jects covered included foundation skills, and development, building a band, teaching call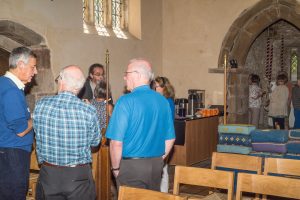 changes, Kaleidoscope ringing, coaching, covering and Plain Hunt.  Despite the long day enthusiasm for the subjects appeared to be maintained by everyone.
We had a very wide range of experience within the group, from those who had only just started teaching ringing with others who had a number of decades.  A good mix when it came to the group work and the more general discussions, all adding to the value of the day.
We were all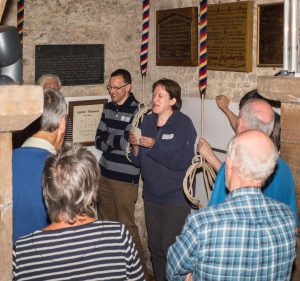 hugely appreciative of the catering by the Lytchett Matravers ringers who provided refreshments and magnificent lunch.  With the added bonus of a warm day we were able to take lunch and afternoon tea outside.
All in all, a very worthwhile day.