At St Mary's Bridgwater, home of the Sedgemoor Ringing Centre, we are starting a project to augment our existing 8 bells to 13 including a flat 6th.  This has been made possible by generous grants from the Heritage Lottery Fund,  Viridor Credits, the B&W Association and local authorities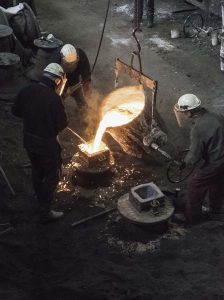 and individuals, who have sponsored bells, with local fundraising by the ringers.  The work is due to begin in the autumn and should be completed by Easter next year.
Update – 3rd October saw a trip by some of the ringers, and interested others, to Taylor's foundry to see the 1st and 3rd of our new bells cast.  Another trip is planned for November for 2 more castings.
Richard Lee