Teachers  from across the Middlesex Association of Church Bell Ringers are offering a week's long course in Bell Handling (from Monday 21st to Friday 25th August inclusive). The sessions will take place between 10am and 4.30pm each day at St Mary Abbots in Kensington, and the cost is £50 for the week.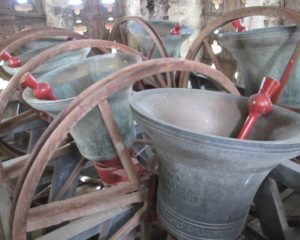 Many of the teachers who will be working with new ringers have attended the ART Module 1 teacher training course and all students attending the summer school will be registered on the Learning the Ropes Scheme, which allows them unlimited access to SmART Ringer and all the resources on Learning to Ring, as well as a dedicated Facebook group for new ringers.

As new ringers gain competence with ringing a bell (under the careful guidance of experienced teachers), they will be eligible for a LtR Level 1 certificate once they can competently handle a Church bell and ring in rounds with others. After this, they will be able to join in with their local band and progress with the highly sociable activity of English change ringing.
The Middlesex Association have benefited from an Aviva Community Fund which has enabled this special course to be provided, with the aim of recruiting and training new ringers in London.
Members of the public who have an interest in learning to ring, and who would like to take part in the week long summer school can contact londonsummerbells17@yahoo.com to reserve a place. Spaces on the course are limited to 20 applicants as individual tuition at bell handling will need to be provided, as well as other scheduled activities such as a group day trip to St Paul's, an introduction to steeple keeping, handbell ringing and developing listening skills.
For anyone who lives in the London area who has always wanted to try ringing Church bells, or who is looking for something new to try over the summer holidays, this is an exciting opportunity.
Ringing is an activity available to all age groups and although many people start learning to ring as children, new ringers of retirement age are equally welcomed.
The Kensington summer school course is also ideal for any former ringers who may have rung previously but who would like to start again, with a thorough grounding in bell handling as a refresher.
For further information about Bell Ringing in general, please visit the Discover Bell Ringing website to learn more.