It is devastating to see your local church being ravaged by flames, as I did in 1978 when St Mary's Barnes was burned to a shell. It was never established whether this was from an arson attack or an electrical fault, but St Mary's Putney had suffered a similar fate a few years earlier, from which the fire brigade had learned to let the fire burn itself out in the tower rather than douse with water, and as a result our bells were saved from cracking. By 1984, the church had been rebuilt incorporating what could be saved of the original structure (including the south wall and the tower) and we are now blessed with a wonderfully versatile space which can be used for any number of activities, both for the church and community, which would never have been possible in the old building. God works in mysterious ways!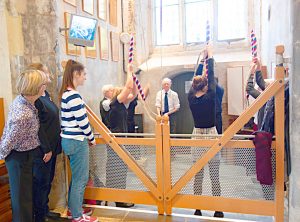 It is in this lovely bright open area that we meet for bell ringing. Our ground floor ringing chamber is not large but during a practice when not ringing we can spread out in the large area between the font and the Congregational chairs, or even further down the nave, for different activities – on a Saturday this means sitting round a table enjoying the delicious home-made products from the church 'Coffee Shop', handbell ringing, perhaps learning to plain hunt on a laptop or phone/tablet, without being too far away to hear the call for the next ring! The only downside is that we have nowhere we can easily leave or store our additional equipment and have not yet found a satisfactory place to mount a large 'moving ringers' simulator screen.
For a number of years now we have made use of simulation on all eight bells when needed,
sometimes with up to four laptops, for concurrent individual practice. We have a camera showing the bells on a television screen at the entrance to the ringing chamber and frequently have an audience prior to services or when we ring before a baptism. There are gates which prove essential to keep wandering children and dogs safe from the bell ropes! A ground floor ringing chamber certainly makes recruitment very easy. Anyone not ringing is encouraged to chat to those hovering close by and eventually, of course, to make the inevitable suggestion if they seem suitably interested!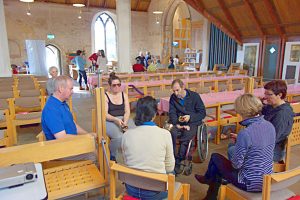 Our teaching for new and improving ringers takes place almost every Saturday; in Barnes if possible, but at another tower if the music festival or some other activity prevents it. We start at 9.15am with all eight bells silenced (using motor bike tyre sections, which has proved to be such an easy system). From mid-morning until 12 noon we ring on open bells. Frequently we offer extra daytime training during the week, particularly when one-to-one teaching is required or when new ringers reach the stage of just needing time on the end of the rope to gain  confidence.
Along with so many other towers, we have benefited from the 'Ringing Remembers' campaign. Wendy writes of her early learning experience:
'Don't look at your sally'; 'hands together on the tail'; 'more flick, Wendy'; 'you're pulling too hard'; 'your hands aren't heavy enough'; 'closer at backstroke'. I had no idea back in July 2018 that, just a few weeks later, instructions such as these would come hurtling at me across a busy tower room on Saturday mornings. I am a teacher, and, whilst on summer holiday last July listening to Radio 4, I heard mention of the 'Ringing Remembers' initiative. The rest, as they say, is history, and here I am six months later, having passed my LtR Level 1, getting to grips with Called Changes and still trying to find out who the devil Bob is! I had, of course, simply no idea what I was letting myself in for; but I am absolutely loving it, and finding it rather strangely compulsive. As a music teacher, it has been very sobering to put myself in the position of novice, of finding things hard, of making a bit of progress one day only to find I've taken two steps back the next! We recently had 'resilience week' at my school, and, boy, have I had to implement the principles of resilience that we have been extolling at school in my approach to bell ringing! As I told our pupils in our resilience assembly, when you are trying hard to do something, the support of others can make all the difference. Fortunately, support is in abundance at my home tower, St Mary's Barnes, adeptly lead by Tower Captain, Trisha Hawkins. Trisha is patience personified and with her band of willing helpers, all of whom give up their time voluntarily and willingly (another aspect to bell ringing I had not anticipated), all of us learners are enabled to make progress.
There have been several highlights during my first six months as a novice bell ringer; kindly assisted by Trisha, I was able to take part in the ringing at the wedding of a good friend's daughter in October (also my first visit to another tower); it goes without saying that the Remembrance Sunday ringing was a privilege to be part of; it was so lovely to have my eldest daughter and my husband come to watch as I took part in the ringing on Christmas Day, very special. As I write this piece it is half-term break from school and I have taken the opportunity that the extra time has afforded me to visit other
towers; Saturday saw me ringing at a Surrey Association event at Mortlake, then during the week I attended practices at Battersea, Richmond and Kingston (as you can see, I really am hooked!). At all these towers I was given a very warm welcome; encouraged to take part; to visit again, and from all of them I learnt something, if only that there is a lot to learn! Life is full of chance moments that change things, sometimes for the better, sometimes less so. The chance moment of listening to the radio last summer has certainly changed things for the better for me as I look forward to a host of challenges that I had not even dreamt of just six months ago. And, yes Eddie, I will try to keep my hands together on the tail!
Naomi was in her second year of university when she enquired about learning to ring just over two years ago. She was available for 'fast track' learning which our ART training had encouraged us to offer and it certainly proved successful in her case, making the learning process so much easier. Only lack of opportunity had delayed her first quarter peal attempt until earlier this year:
For a few months prior to my first quarter peal, the instructors at St Mary's, Barnes had been gearing me up for it – making sure that I was as prepared as possible.
The regular Saturday morning sessions were incredibly helpful in the run up, and I was fortunate enough to have access to a simulator for a lot of these. Having such a tool allowed me to practise covering to various methods, and really gave me an idea of what it would be like to do so physically (even if all the bells wouldn't ever be quite so perfect in reality!). Ringing for weddings was good practice, too, as I began to get used to ringing for longer periods of time – often whilst waiting for a tardy bride of course! – and staying in the correct rhythm during these periods.
Having such a supportive group of not only instructors but fellow learners in Barnes has been

instrumental to success for all ringers. Experienced individuals never tire of going over the same fairly

simple exercises and are often on hand to give helpful advice afterwards. In such a friendly environment, I had no trouble approaching fellow ringers and asking for their comments – having an awareness of my mistakes as well as a range of potential solutions definitely made me feel as though I was fully geared up for any issues!
Some 'mistakes', however, I couldn't quite solve until the day. One such mistake was my tendency to pull too hard, which I had been warned would tire me out minutes into a quarter peal, and which I'd tried endlessly to remedy before the day with little success. I found that the best way to prevent this,
however, was simply…to do a quarter peal! After about twenty minutes of full, over-exerting strokes,
I began to ease off, and found not only that my arms thanked me, but my striking too!
I think that when it comes to a daunting 'first' like a quarter peal, a supportive and friendly group of not only instructors but also fellow ringers is crucial.
I am very grateful for all of the wonderful people who are so dedicated to making our ringing, as learners, the best that it possibly can be.
It is always good to read the observations from our learners and be reminded how it feels to be at that early stage of ringing. It sounded as if Wendy could have done with fewer instructions 'hurtling' at her from across the tower (although she has certainly taken them on board and made huge progress)! But it was good to hear from Naomi that a quarter peal proved a good way of improving her over-pulling. I hope it is sorted for good or it will be a full peal for you next time, Naomi!
This article first appeared in the April edition of Tower Talk Magazine, the free quarterly newsletter for new ringers. To subscribe to future editions, please fill out this form