We've had a really good week at MiniRingers!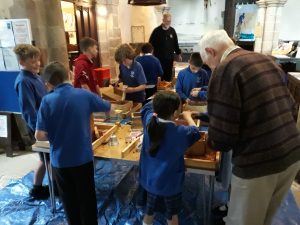 We were due to start casting our bells on Thursday; a rather poor forecast meant that this needed to be postponed – water and molten metal are uncomfortable bed companions!
So instead we spent a second session, learning to make the moulds.  As one Mum said, "They were all so engaged!"
Here's hoping that next Thursday will let us fire up the furnace.
It was a lovely day – a certain amount of sand was scattered though we were surprised at how little there was to sweep up.  We've now got quite a lot of moulds, ready for pouring next week.
Then the "MidiRingers" took over centre stage.  These are the Year Six members of the group and they are just starting their tower bell careers.  We meet before the main practice for about 45 minutes – and they are storming away.  They are all handling their bells confidently (ours are quite tricky, with a long draught and some high guides) – Angus has been going for nearly a year – and he's a full member of our Sunday Service band (read his little article in this week's Ringing World p593).  The other four started at the beginning of this term – and I'm just filling in the "Completed!" section of their log books for their Level 1 Certificates.
On Thursday, they all rang together for the first time.  I don't think that even a proud teacher would call it "rounds".  More, "Kildwick Surprise Doubles" – in that it's quite a surprise when they didn't all strike simultaneously!
There are black days, when you ask yourself, "Why on earth do I bother?"
And then there are days like Thursday, when you know why you bother!