The Lancashire Lads and Lasses are the home team who are competing for the first time in the Ringing World National Youth Contest (RWNYC) in Liverpool in July this year. Let's meet the team!
Ellis Hollows: I'm 11 years old and I've been learning to ring at St Anne's Parish Church since November 2017. I really enjoy Young Ringers because everyone is very friendly and it is fun to ring with lots of people my age.I think it is a great opportunity and every young ringer should give it a go. The young people in the group are between 10 and 17 years old. We try and focus on methods that some of the ringers are trying to learn and also listening and striking skills. The meetings are mainly held at Bilsborrow but it was great to have our April meeting on the Fylde coast, at St Cuthbert's, St Joseph's and my home tower,St Anne's. In May we had our meeting in Barrow-in-Furness. We went to ring at St James the Great Church as it was the 150th anniversary of the church. We also went on a trip to Liverpool and attended a joint meeting with the Yorkshire Tykes. I am also completing "50 Ringing Things" and writing this article about ringing counts as one of my Things, so thank-you for reading this!
Cameron Pollock: The RWNYC has been a fantastic opportunity for every person on this team to be involved in something new and refreshing. From my experience of ringing in the Lancashire Association of Change Ringers (LACR), there has never been an influx of youngsters who have been keen to take on the hobby of bell ringing. This is perhaps a surprise, given the large area that the Association covers. However, we have managed to pull together an extremely competent band, allowing us to form the first ever Lancashire Association team for this competition. I have thoroughly enjoyed spending time at the practices that we have had. Ia m one of the four Barrow-In-Furness ringers participating. At first, I was reluctant to step outside of that group. But after a few practices, I was happily making conversation with the other ringers. Not only has this been an amazing chance to meet new people but we have set up a team that we hope can compete in this striking competition for years to come.
Daniel Kirkwood: Learning to ring since September 2018 has been great fun. I've progressed from individual lessons to ringing for Sunday services at our church of Brindle St James in the Diocese of Blackburn and practising with the young ringers' team. My Plain Hunt is improving and I am starting to ring it on more than six bells. I feel very confident now with my Rounds and Called Changes. It's nice to know there are many other people my age enjoying the ringing as well. I'm looking forward to improving in my new skill in the future.
James Turner: The 3 L's (Lancashire Lads and Lasses) is a new group of young ringers. Most of our practices are held at Bilsborrow St Hilda's which is a ring of eight just north of Preston. We have ringers from all over the Lancashire Association from Barrow-in-Furness down to Kirkby Lonsdale to the Fylde to Preston and then Manchester. Unfortunately, all three ringers from Manchester have had to drop out due to other commitments. So now there are only about ten of us which is still a good number for a newly formed team but in the future we hope we can have more from the whole of Lancashire. We have already had four outings, to Liverpool and the LACR AGM day in the Fylde Branch, and the latest outing was up to Barrow to celebrate the 150th anniversary of St James the Great, which is the home tower of four of our ringers. And then we met up with the Yorkshire Tykes for a good day out.In July we are ringing in the RWNYC (Ringing World National Youth Contest) which is a yearly 8-bellstriking competition, to be held in Liverpool. But that is not why we formed this team. It is to realise that there are other young ringers in Lancashire and to meet up with each other and ring together.
Will James:I am a proud member the Lancashire Lads and Lasses, who will be representing Team Lancashire in this year's Ringing World National Youth Contest. In May, my fellow team-mates and best friends James and Liam ventured up to the Lake District to stay in James's caravan, which seemed like a good idea as the following day we would be going to Barrow to practise our competition piece. It was a very useful and successful visit and was a very exciting experience. We were able to use the simulator but also, at St James the Great, you are able to see the bells ringing overhead which is exhilarating. It was a steady ring of eight. The following day we returned to Preston after a fantastic weekend.
Good luck to The Lancashire Lads and Lasses and indeed to all the teams entering this national competition!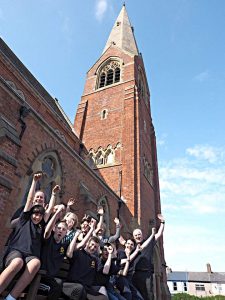 This article first appeared in the July edition of Tower Talk, the free quarterly e-magazine for new ringers, by new ringers. You can download the rest of the July edition here or subscribe for future copies by email.