These children continue to amaze me.
The MiniRingers are an after-school club.   We attract a tenth of the whole (small) school – and we have a waiting list.   That's not, actually, very hard to achieve.  We arrange a variety of different bell-related activities centered around tune and change ringing on bells and chimes.  We perform regularly at the school Collective Worship sessions, at the local Music Festival and other occasions so we are visible – and, of course, we have the support of the school.
That's great.  But not really amazing.
Once Easter and the stresses of Music Festival competition is past, those who are physically big enough (probably just Year Six) are invited to start learning to ring the big bells.  (A 15cwt tenor and a long draught don't make these ideal for small ringers).  They are, actually, a little more than jus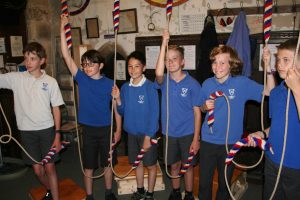 t "invited".  Dragooned may be a better word.  The object is to ring the bells for the Leavers' Service in July.  And that is quite a tall order in just a term, especially with all of the other activities going on.  This year, all our six leavers rang rounds – unassisted (see bb.ringingworld.co.uk/view.php?id=1295107 )
Well.  They sort of rang rounds.  They certainly rang unassisted.
I promised that their commitment would end with ringing for that service.
So now comes the amazement.  Four months have passed and, crucially, these six young lads have made the serious step up into secondary school.  Some to the local Grammar school; others are more local – but their social lives have turned upside down.  One lad never reappeared.  That wasn't a surprise.  He was prepared to go through the process with that aim in mind.  But all of the others are still with us.  I find it amazing – and not a little humbling – that these children should have stuck with this through what is probably the biggest change in their lives so far.
On Sunday, they turned up in force to ring half muffled for Remembrance Day.  And they really rang rounds!  One is about to try for his first quarter peal.  Another is about to get his Level 2 certificate – and is catching up fast.
Our challenge from Will Bosworth is to ring a quarter peal by July.
And, you know, we might just make it!