The Kildwick MiniRingers are not just about learning to ring bells.
We do learn to ring bells – both tunes on handbells and (quite newly) starting handling lessons on our rather difficult tower bells.  But that's not all that we do.  During the summer term, we set to and make bells too.
Last year, we cast the bells in a traditional clay mould, shaped with a strickle.  I don't think that we got the mix of the clay quite right (all that horse manure and hair!) but the kids had quite a lot of difficulty managing this.  It took a long time – probably longer than the exercise was worth, so this year, we have re-thought things.
We are losing a bit of the folklore of bell casting by abandoning the "big bell" clay moulds and we will be casting this year using the simpler "green sand" technique that is common for handbells.  Green Sand isn't coloured green – it' green, as in "uncured".  A mixture of fine sand and Bentonite, when dampened, it clumps together well to create the mould.  A pattern is packed tightly in the wooden flask (a topless and bottomless box with a precisely aligned lid).
The two halves are separated and the 3D-printed plastic pattern removed.  A hole is bored through the sand down which the molten metal is poured.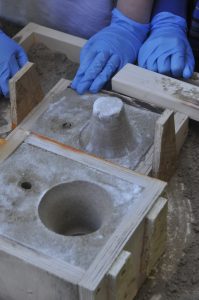 It was well worth doing this week's dummy run!  The children didn't pack the sand nearly tight enough, so it's back to the drawing board so they can be provided with more effective ramming tools.
Typically and predictably, the two girls got on more quickly and neatly but I was thrilled with the way that our youngest member, an autistic lad, settled down to the task and made, probably, the most successful mould.
OK – this isn't "Bell Ringing à la ART" scheme.  It wasn't ever intended to be – but it does generate a great buzz and interest as we work in the churchyard, with all the school parents walking by.  It's a significant part of the attraction of the MiniRingers – and through that we are developing a real possibility of recruiting some young ringers into the tower.