10 months after taking the ART Module2/2C course in London Ms Deb Margason-Baker ( 35 from Farnham ) surprised herself and shocked her mentor Mr Roger Booth ( 45 from Arlesford) by passing the theory test at 93.33% despite suffering from a heavy head cold.
Speaking in an accent she picked up in the 'Big Smoke' Deb said " I fought I would use me sick day to catch up wiv unfinished work but cor blimey guvnor I didn't expect such a good result!  Old Boothy will be so proud of me when he comes round… I'll just get me smelling salts"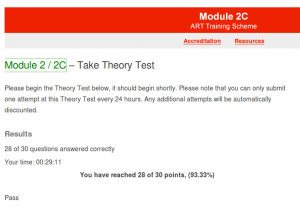 Earlier in the day Deb had registered 1 of her learners at level 1 pass and 4 out of the other 6 at level 2 pass cementing her love of teaching.
Later she was heard still bemoaning the lost 2 questions but decided to celebrate success instead with a ringers tradition and have a pint.